The rise of the smartphone is one of many amazing phenomena re-shaping China. There are an estimated 500 million smartphone users in China and the numbers are growing. According to The Fiscal Times, "Kai-fu Lee, the former lead China researcher at Microsoft and then Google predicts that China will have 500 million smartphones in use by the end of 2013." The increase in smartphone usage has changed the way Chinese access the internet and how they see advertising online. This change will require innovative marketing strategies from companies wanting to engage with Chinese consumers.
Understating the Current Mobile Advertising Market
Currently, the mobile advertising market in China is geared towards two main delivery types: SMS and MMS.  According to a survey conducted by China Internet Watch, "The most common strategies in mobile marketing was obviously SMS, 71% adopted it. Followed by mobile business and mobile website." This means that 71% of businesses that currently use mobile advertising in China use a SMS strategy. Below is a full break down of the survey conducted.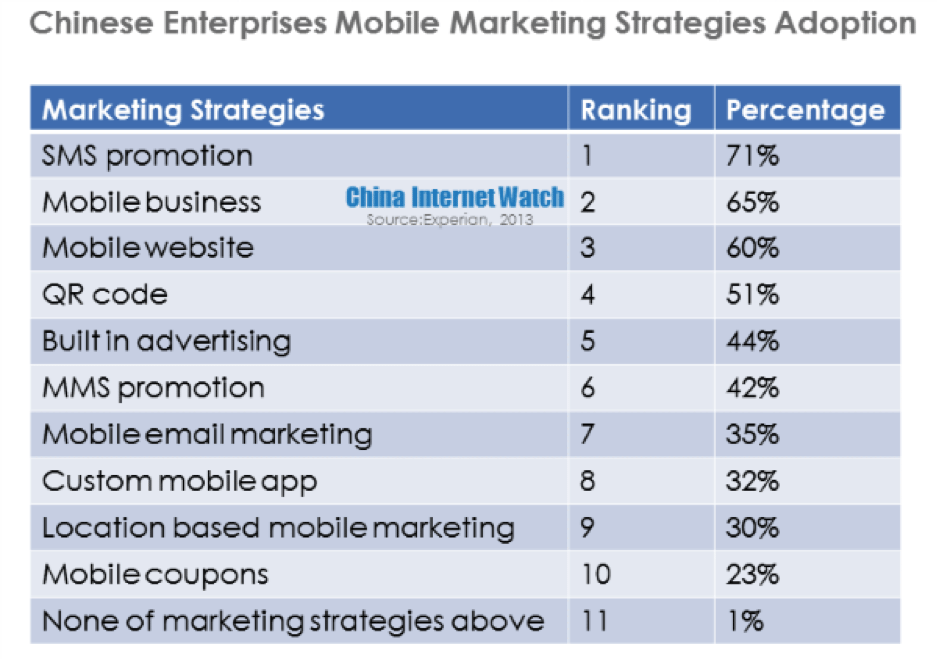 The current mobile advertising market in China is underdeveloped but this is expected to change in the next few years. According to Appflood, "The truth of the matter is that while mobile ad networks speckle the country and jockey for the title of "AdMob of China," an ad network who's managed to consolidate the disparate publishers including major Chinese tech and telecom companies like Baidu, Qihoo 360, Tencent and China Mobile have yet to emerge." The market continues to be fragmented with no dominant player and marketers are finding it difficult to conduct mobile campaigns. Despite the difficulties, marketers are still looking for ways to crack the mobile market in China. According to a whitepaper by M&C Saatchi Mobile, "43% of smartphone owners now claim to purchase through their mobile device, with a further 48% banking on their smartphone" and "among smartphone owners, 67% use instant messaging apps such as Tencent's WeChat, which alone has over 300 million users. A further 58% of consumers use their smartphone to access email." Marketers are eager to monetize these high percentages but without a dominant ad distributor and underdeveloped platforms, they are finding it increasingly difficult.
Understanding the Future of Mobile Advertising in China
Mobile Advertising in China is becoming more important and it can no longer be ignored. There are three major areas of growth including Games, Apps, and Search. The first major growth area for mobile is in the gaming industry. According to SinoMarketInsight Co. Ltd., "The China Gaming Industry Report estimates that mobile games now account for 7.5 percent of the total Chinese games market, up from 5.1 percent in 2012." The reason marketers should monetize gaming is because Chinese mobile gamers spend more time playing games than engaging in other activities on their mobile phones. According to an IResearch report, "47.5% of solo mobile game players in China would finish games in 30 minutes. By contrast, average time spent on online mobile games was longer." Games are a great way to position your brand in front of a Chinese audience that is already highly engaged with their mobile devices. Integrating advertisement into games is an effective way to reach young, affluent urbanites. Apps go hand and hand with games. Apps are becoming increasingly popular in China and will be leveraged into effective ad platforms. "Outside of gaming, in-app advertising is an established and rapidly growing category of mobile advertising. The growth of app usage is partly responsible for this, with app sessions, total time spent running an app, growing by around 870% in China compared to 200% in the top 100 countries worldwide. It was predicted that by the end of last year, in-app mobile display advertising would be worth roughly $283 million" M&C Saatchi Mobile. With this astonishing increase in usage, many companies are looking into leveraging this growth and the trend will continue for the foreseeable future. Companies that are looking to capitalize on mobile advertising in China should look into app creation or into platforms that integrate third party content. The last area of interest that is set to take off is search. The rise of the smartphone has created a mobile shopper in China and, these new shoppers are using their smartphones at point of purchase to make buying decisions. Many shoppers are comparing competitors' prices and using search engines to learn more about products at point of purchase. Strategies that offer mobile discounts or incentives can be a powerful tool to win consumers.
Three Ideas to Help Prepare for the Future
1. Mobile Website
The first step in preparing for the future of mobile advertising in China is to create a mobile website. Companies that are not accessible on a mobile platform will be penalized by search engines. Creating a HTML5 website is essential for companies in China. According to TechinAsia, "New stats from the China Internet Network Information Center (CNNIC); China now has 591 million internet users and 460 million mobile web users." And "Mobiles could soon become the main vehicle for accessing the internet, with 70 percent of China's new web users doing so via their phones." The statistics are clear and companies must create a mobile website in order to capture the Chinese mobile users. The rollout of 4G networks across China will allow mobile websites greater freedom to create and distribute various types of multimedia. The faster download and streaming feeds have allowed mobile websites to fully integrate video and gaming, which increases engagement.
2. Digital Agency
Mobile advertising in China is fragmented and difficult to navigate; having a digital agency in China helping negotiate advertising rates and providing best practice guidance is beyond a doubt, the easiest way to enter the Chinese mobile advertising market. There are many digital agencies to choose from and choosing the right one can be difficult.
3. WeChat (Weixin)
Another way to enter into mobile advertising in China is by using WeChat. According to Digital Jungle, a leading digital agency based in Beijing, "WeChat (known as Weixin in China) is similar to Whatsapp, a mobile messaging application popular in the West that enables users to send messages using their phone's 3G or Wi-Fi connection. What makes WeChat unique is that it has rolled into one application popular features from other social networking services as well as a few distinct innovations." The article titled "Tapping into WeChat Marketing" goes into greater detail explaining how this form of mobile advertising is changing the advertising space and how marketers can use WeChat to engage and convert Chinese consumers.