Every budding entrepreneur or business owner dreams of turning their ambitions into reality and that's where business model canvas examples come into place. It may sound far-fetched but all giant corporations start off with a business model.
This strategic tool is mainly used to address key pointers about your business. In this blog post, we'll be discussing some popular business model canvas examples along with a few pointers on how to create own business model.
What Is Business Model Canvas?
A business model canvas or BMC model is a visual representation of a new or existing business. This concept was first introduced by a Swiss business model expert named Alexander Osterwalder.
Business model canvases are used to highlight activities, infrastructure, and allocation of resources along with other primary components in a tangible manner. This tool offers a graphical representation of core elements that center a business, leaving behind unnecessary or unimportant details.
Business Model Canvas Explained
To help you get a better idea, here are some important components of a  business model canvas:
Key partners: To get ahead of competitors, organizations may have to team up with partners to improve their services.
Key activities: It's important to gain knowledge about the core activities of the company. This'll help develop a better understanding of value proposition.
Key resources: A company can't function without key resources. For better results, resources must be classified into different categories including financial, human, physical or intellectual resources.
Value propositions: Value proposition caters to the needs of customers and is basically how an organization distinguishes itself from others. At the same time, it also focuses on customer satisfaction, brand status and design.
Customer relationships: You can't build a strong customer base without establishing strong relationships. The first step to optimal customer service is to anticipate the needs of your clients.
Channels: An organization can't survive without appropriate distribution, sales and communication channels. These channels aim to create awareness about the product and generate new leads.
Customer segments: These segments are used to divide customers into different categories. By targeting different segments, companies are better able to cater to the needs of their customers.
Cost structure: Analyzing cost structure provides companies the insight it requires to generate profit. This component addresses variable costs, economies of scale and profit advantages.
Revenue streams: This key component offers a clear outlook on the revenue model of the organization. It also highlights cost drivers and other important money-related factors.
Popular Business Model Canvas Examples
For some inspiration, check out these popular business model canvas examples:
Google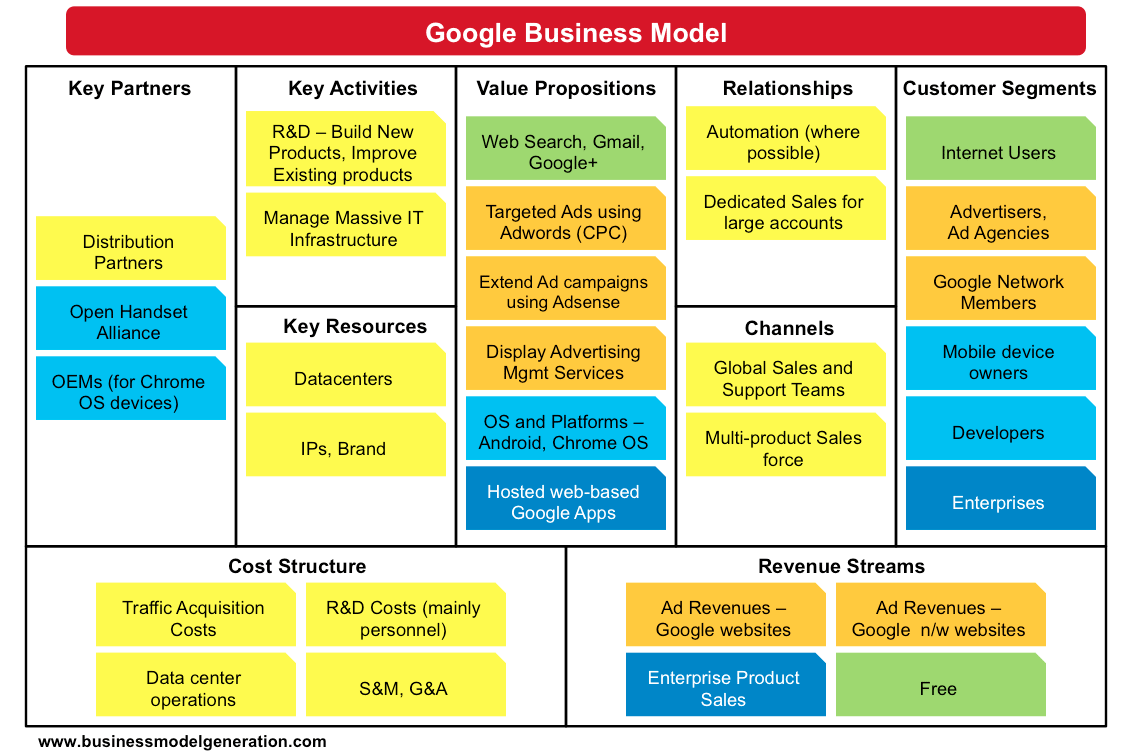 This gigantic search engine platform needs no introduction, owing to its 66% market share. Over the years, Google has acquired huge data centers situated across the globe.
The search engine giant earns almost 96% of its revenue via advertising. Google offers self-serve auction ad products and is performing quite well. Google focuses all of its energies on acquiring long-term customers.
It successfully does so by gathering data in the form of pictures, emails, documents, blogs and videos. The company attains customers locking in important data.
As far as partner dependencies are concerned, Google has teamed up with a number of content companies that are collectively known as Google Network members. That's basically how the company boosts its ad campaigns.
Additionally, the company also collaborates with product distribution partners to bring in traffic.
Facebook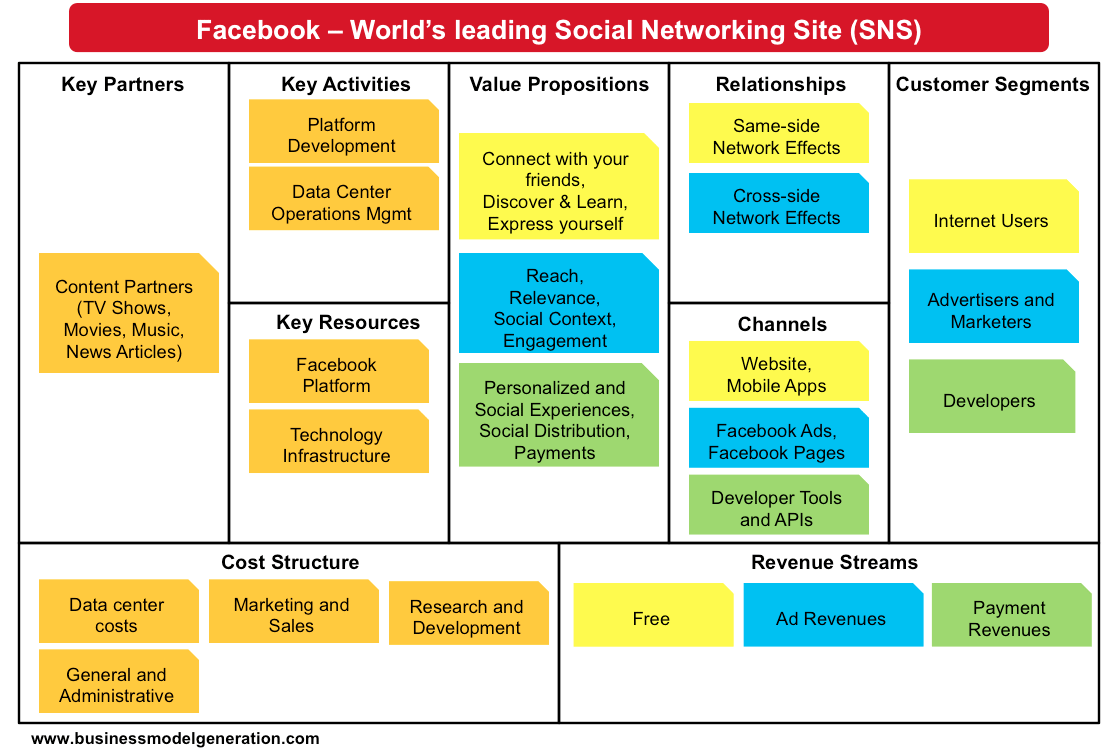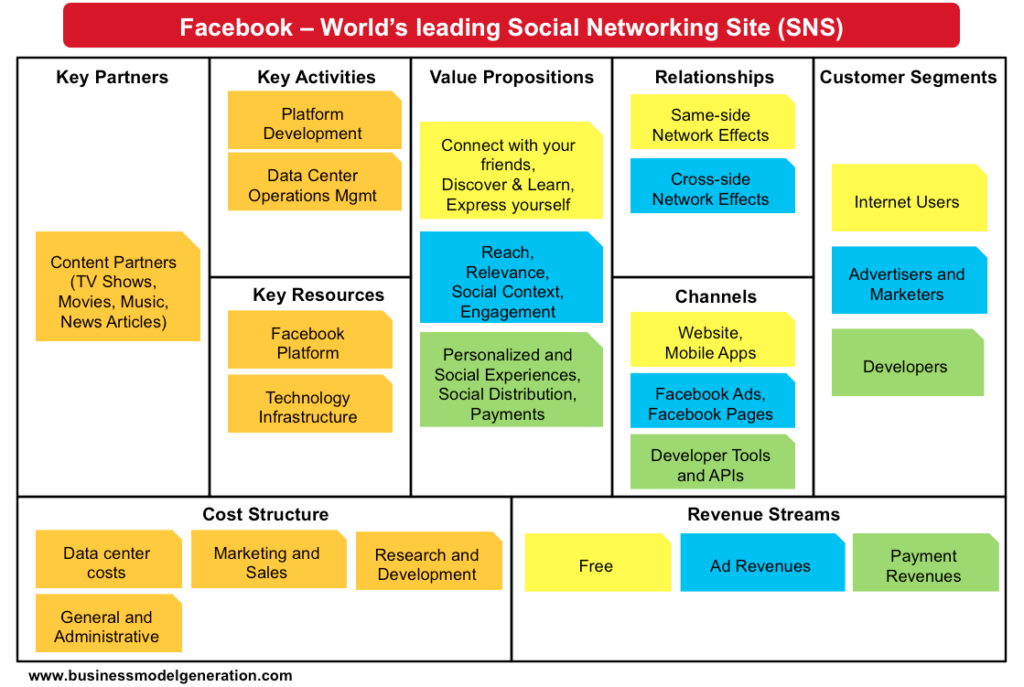 Facebook is undoubtedly the most leading social networking website. For its incredibly diverse audience, Facebook has set up a multi-sided platform that is designed to cater multiple customer segments with varying value propositions.
The social media giant offers numerous of its products and services for free such as news feeds, timelines, notifications etc. As far as revenue is concerned, ads serve as a key source of income.
In fact, contribution payments are increasing at an alarming speed. To boost engagement, Facebook has also partnered up entities such as Spotify, Netflix and Washington Post.
Advertisers can team up with Facebook to offer ads based on the age, work history, location, gender, education or special interests of the audience. The company also has an impression online payment infrastructure which makes it easier for developers to receive payments in a secure and easy manner.
LinkedIn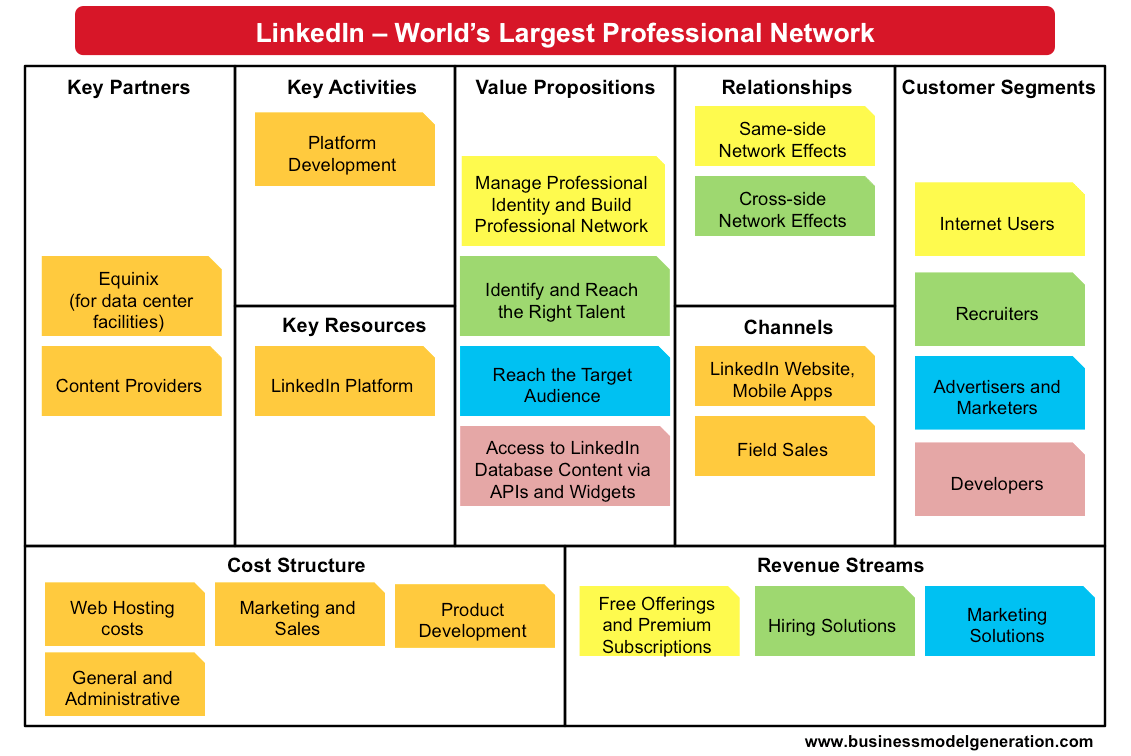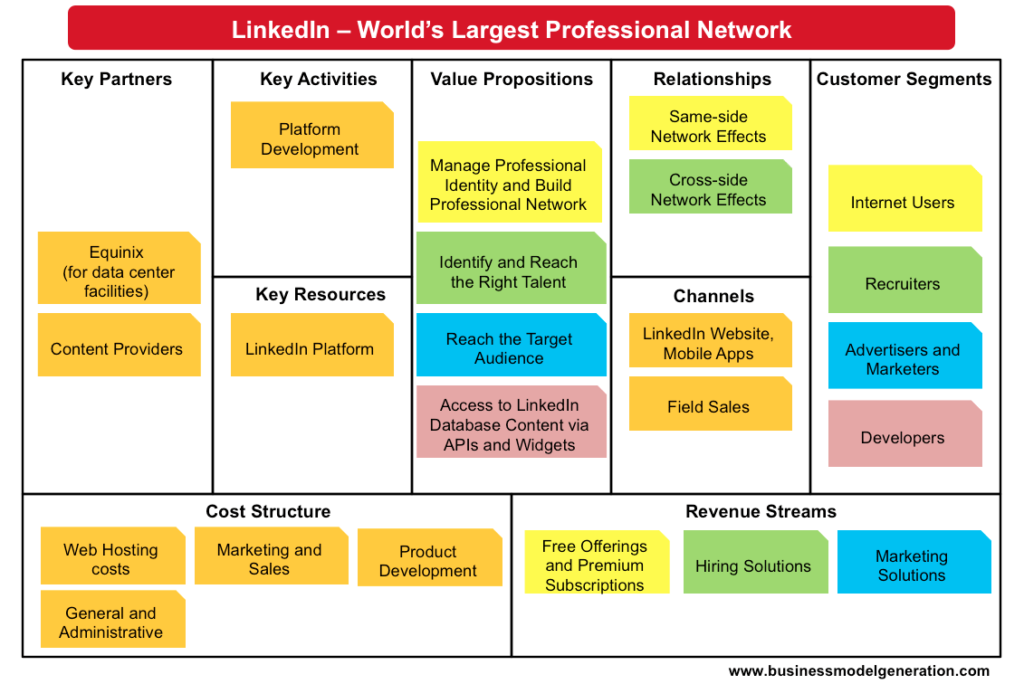 Founded in March 2012, LinkedIn is the world's largest professional networking platform. The online space aims to connect professionals from across the globe, allowing each member to cultivate a professional identity of their own. Similar to Facebook, LinkedIn too has employed a multi-sided platform.
The company follows a Freemium business model where its core services are free while premium services come with a fee.
Premium membership allows members to take advantage of tools such as Profile Stats Pro or LinkedIn InMails. Additionally, the company also offers a host of products for recruiters such as LinkedIn Jobs and Corporate Solutions amongst other subscription products.
Did you enjoy reading about business model canvas examples? Check out our other blogs related to startups and entrepreneurship.
Picture Credits: BMI Matters