How about we take a stroll down memory lane and revisit the most iconic coke slogans?
It's safe to say that Coca-Cola is one of the most renowned brands around the world and for good reason. After all, the brand has worked incredibly hard to establish a credible reputation for itself.
And since we are a marketing website, we can't help but acknowledge coke's stellar marketing team for the efforts it has put in over the years.
You see, while it may seem like nothing but a couple of sentences, coca cola slogans have played an integral role in perpetuating its brand image. Time and time again, Coca-Cola has stepped up its rebranding game by launching new campaigns and opting for better coke slogans.
In this post, we'll be sharing some of our favorite coke slogans from the past couple of years. But before that, let's have a look at what the company is all about.
Coca Cola History
It may sound a little odd but this famous beverage was actually created by a pharmacist, namely Dr. John S. Pemberton back in 1886. Once Pemberton was able to create a batch of this distinct drink, he mixed it with carbonated water and decided to sell it. This caused Pemberton to team up with his bookkeeper, Frank M. Robinson who is often accredited with naming the soft drink and designing the unique script that is used till date.
And thus began the (incredibly successful) journey of Coca-Cola because, in just about two years, the soft drink became the #1-selling sparkling beverage in the world.
Coca Cola Ideology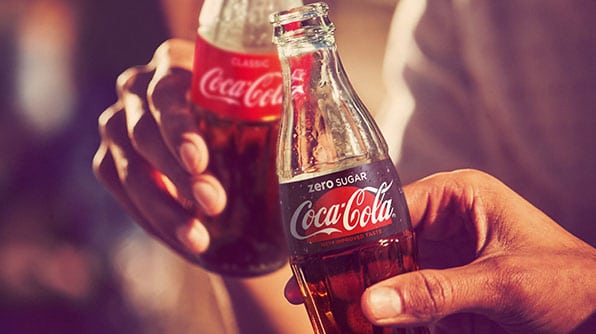 Coca-Cola enjoys its position as the #1 bestselling beverage around the world. Because of this, the brand acknowledges its responsibility to shape a better future for the generations to come and that's exactly what its 2020 Vision is all about.
The company has created a "Roadmap" to success which includes its mission statement, company values, and overall corporate culture.
Coca Cola's Mission
A company cannot thrive without a mission or purpose that will push it towards the road to betterment. According to The Coca-Cola Company's website, its mission is:
"To inspire moments of optimism and happiness…"
"To refresh the world…"
"To create value and make a difference."
So you see, unlike other companies, Coca-Cola opts for a distinct approach. Note how its mission is not to make the most sales or build a bigger empire, instead, it focuses on the importance of creating change and bringing happiness. This is all part of Coke's thriving company culture.
With its positive mission, Coca-Cola wishes to be a part of some of the best days of your life and "Open Happiness".
Coca Cola's Values
From the company culture to brand strategy, everything is built around these seven core values:
Leadership
Collaboration
Integrity
Accountability
Passion
Diversity
Quality
Overall, it is a brand driven by the desire to inspire a positive change – a change that encompasses the whole world, every single community.
List of The Best Coca-Cola Slogans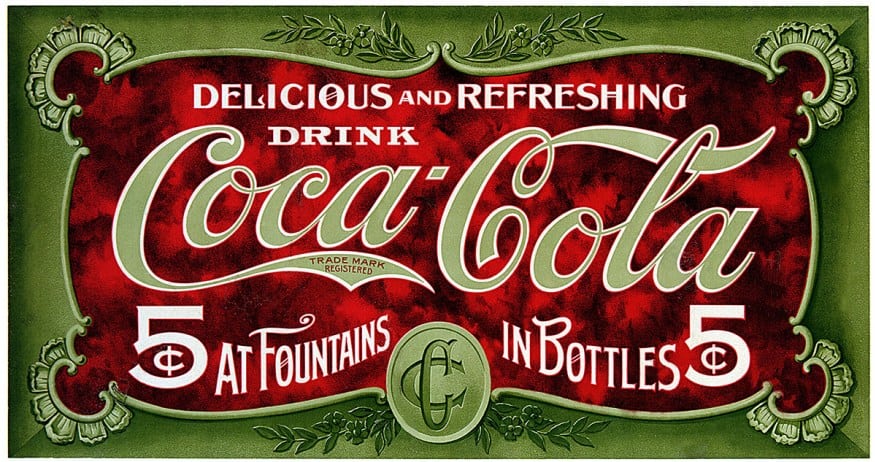 Cutting right to the chase, here are some of the best coke slogans:
"Delicious and Refreshing"
This was the first and longest-running slogan that initially appeared in Coca Cola's very first published ad in 1886. The company remained loyal to this slogan till the 1920s. However, it was time and again used along with other secondary slogans such as "The Great National Temperance Drink" in the 1890s and 'Good to the Last Drop' during the 1900s.
In the 1920s, the company came up with two more iconic slogans. The first one, "Thirst Knows No Season" was created in1922 and remained popular till they came up with the tagline "The Pause That Refreshes" in 1929. The latter caught up with the masses and remained their main tagline for around three more decades.
"Things Go Better With Coke"
The 1950s was a revolutionary decade for advertising. The focus shifted from print to television. Companies were coming up with slogans that sounded well as jingles. Coca-Cola hired McCann Erickson as its branding partner. We saw a number of jingles throughout the 50s and 60s and "Things Go Better with Coke" is the one that stayed for six years.
Coke's first major campaign "I'd Like to Buy the Word a Coke" was launched in 1971. That is when the same agency, precisely the same man wrote another iconic slogan "It's the Real Thing."
"Coke Is It"
Coke kept coming up with interesting and catchy slogans throughout the 80s. First, it was "Have a Coke and a Smile" and then they created the popular "Coke Is It." The company was now focusing its attention on the younger audience. "Coke Is It" reflected the cultural shift among American Youth. It remained their slogan for six years before it was replaced by "You Can't Beat the Feeling" in 1988. In just two years, that slogan was slightly altered to "Can't Beat the Real Thing" – a slogan that hints towards the rising competition during that period.
"Always Coca-Cola"
The 1990s was the decade of change for the company. From the bottle to branding, everything changed. The company hired another marketing agency who helped them build multiple campaigns around the iconic "Always Coca-Cola" slogan. Anyone alive in the 1990s would remember the jingle. It is the anthem of the 90s and every 90s kid still remembers it by heart.
"Open Happiness"
Open Happiness is essentially the most popular Coca-Cola slogan of our time. It was first used in 2009 and everyone thought they are never going to change it again. It was accompanied by a number of popular ad campaigns that spoke volume about the brand's mission, vision, and values. Most of the campaigns were built around the subject of peace, tolerance, inclusion, diversity, and coexistence.
With this slogan, Coca-Cola rebranded itself into a company that truly cares about things that matter – about humanity and the challenges it faces. It became more than just a soda company and set an example for other brands to follow.
"Taste the Feeling"
While we thought Coca-Cola had found its perfect slogan in Open Happiness, Marcos de Quinto, the global Chief Marketing Officer had something else in mind. Quinto found the previous slogan a tad bit preachy and wanted to revert to something that focused more on simple pleasures. That is when "Taste the Feeling" was launched.
"Taste the Feeling" reinforced the company's commitment to choice. It signifies how there is Coca-Cola for everyone no matter their taste, lifestyle, and dietary preferences. It is one campaign that covers all the variants including Coca-Cola Zero, Coca-Cola Life, and Coca-Cola light.
Complete List of Coke Slogans
Here's a list of complete Coca-Cola slogans:
1886 – "Delicious and Refreshing"
1904 – "Drink Coca-Cola"
1905 – "Coca-Cola Revives and Sustains"
1906 – "The Great National Temperance Beverage"
1907 – "Good to the Last Drop"
1917 – "Three Million a Day"
1922 – "Thirst Knows No Season"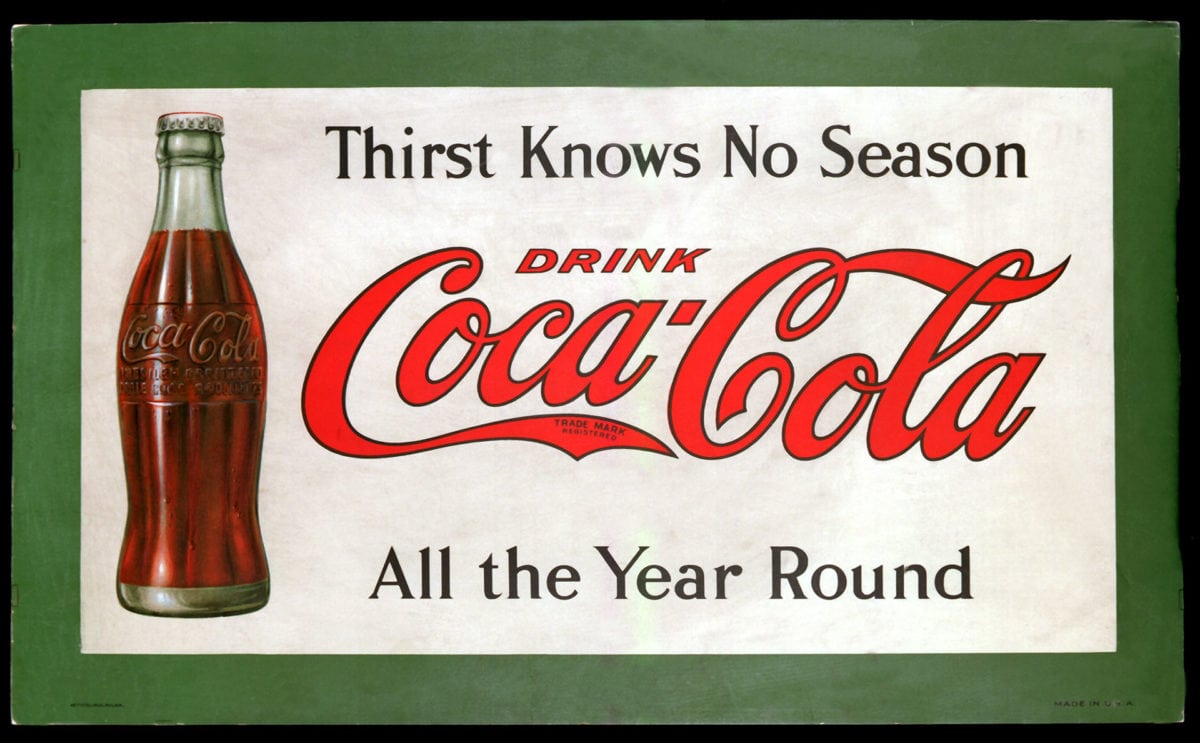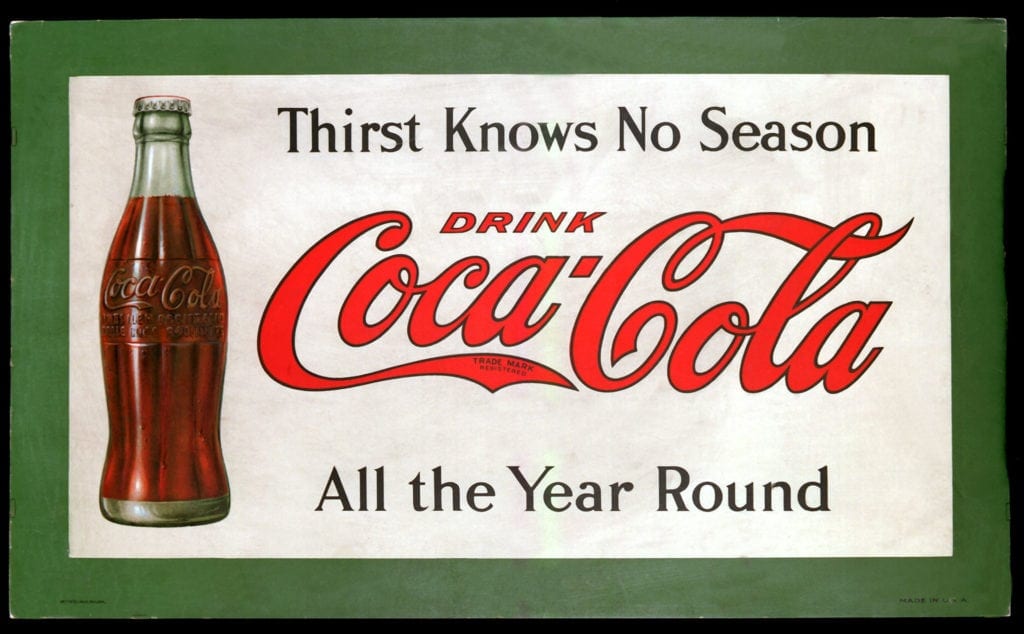 1923 – "Enjoy Thirst"
1924 – "Refresh Yourself"
1925 – "Six Million a Day"
1926 – "It Had to Be Good to Get Where It Is"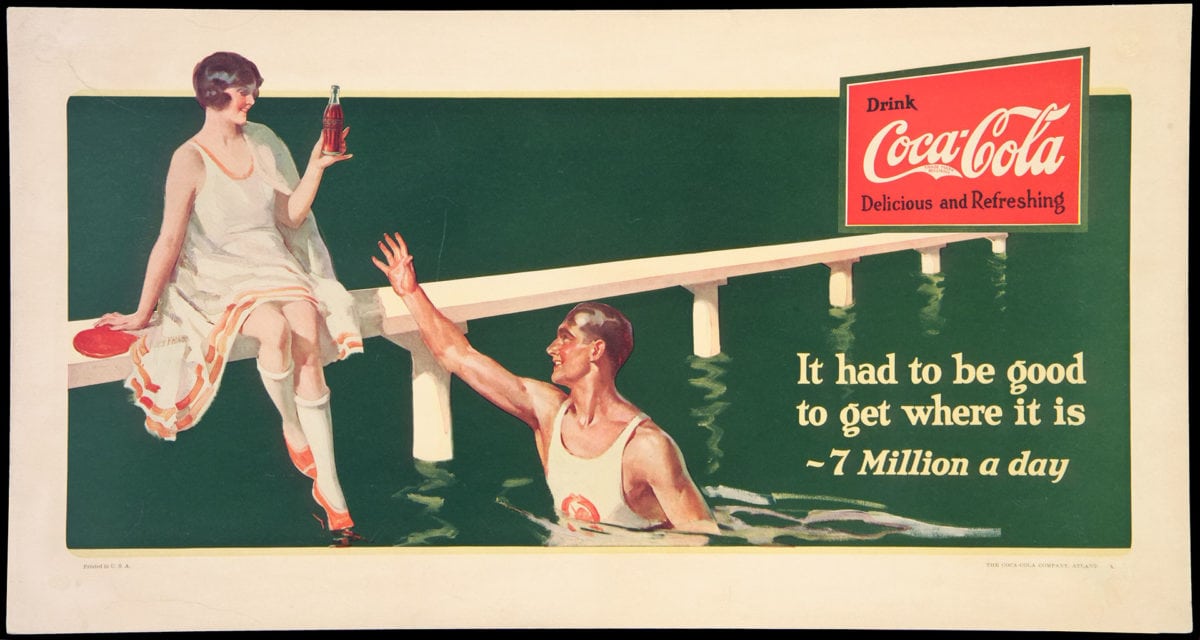 1927 – "Pure as Sunlight; Around the Corner from Everywhere"
1929 – "The Pause that Refreshes"
1932 – "Ice Cold Sunshine"
1938 –   "Thirst Asks Nothing More"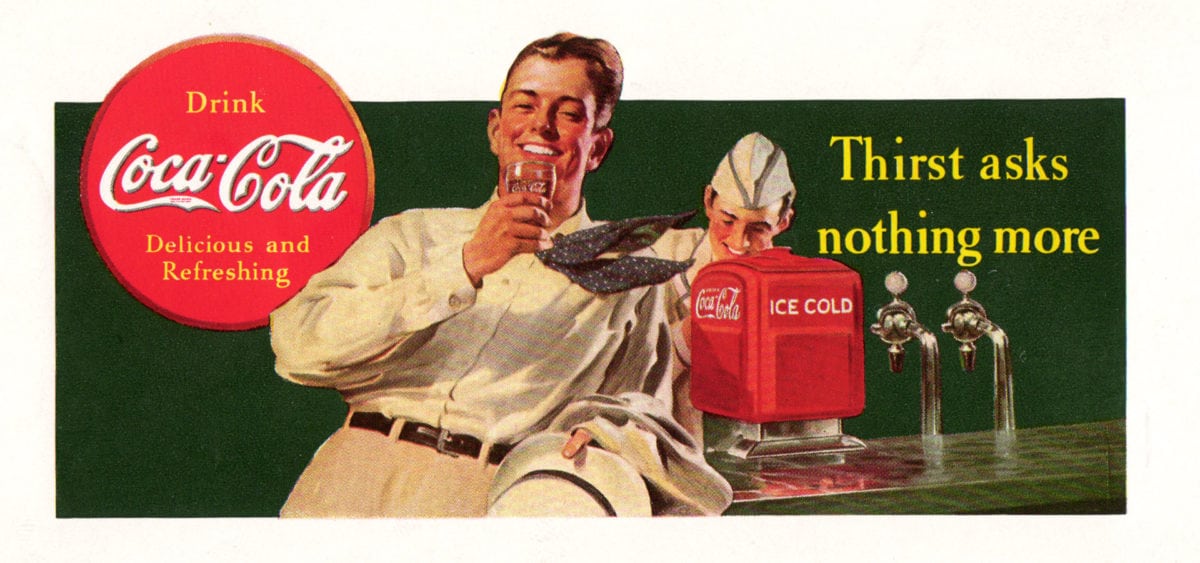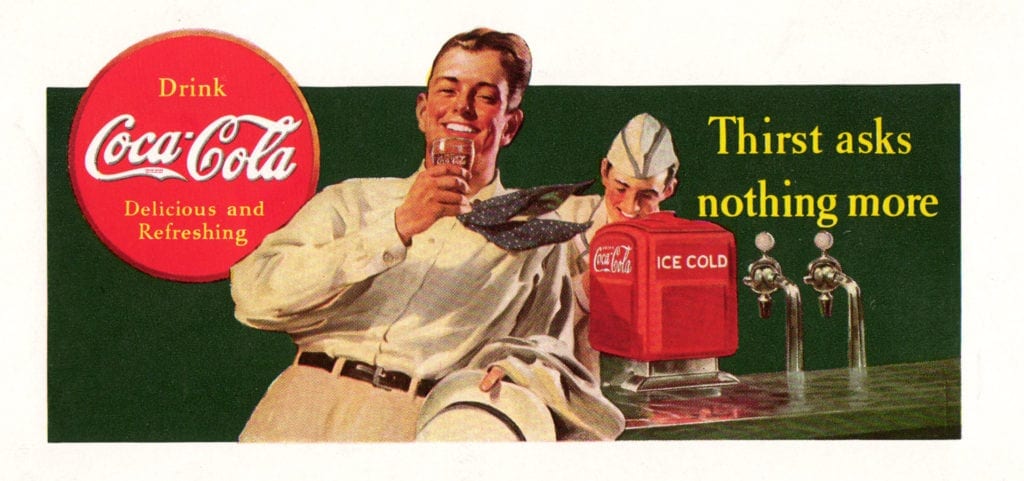 1948 –   "Where There's Coke There's Hospitality"
1949 – "Along the Highway to Anywhere"
1952 –   "What You Want is a Coke"
1956 –   "Coca-Cola … Makes Good Things Taste Better"
1957 –   "Sign of Good Taste"
1958 –   "The Cold, Crisp Taste of Coke"
1959 –   "Be Really Refreshed"
1963 –   "Things Go Better With Coke"
1969 –   "It's the Real Thing"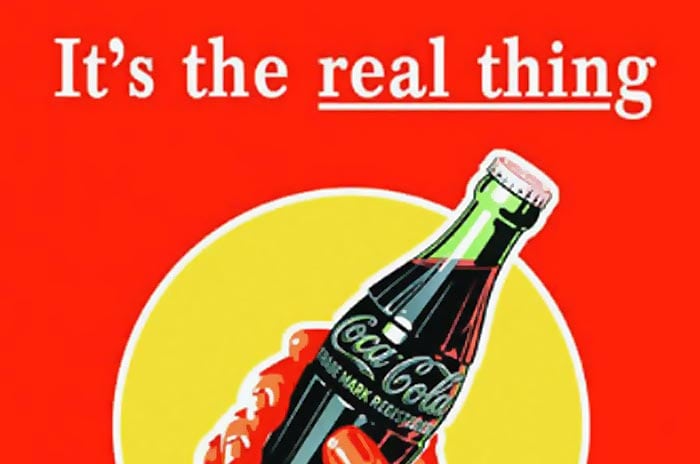 1975 –   "Look Up America"
1976 –   "Coke Adds Life"
1979 –   "Have a Coke and a Smile"
1982 –   "Coke Is It!"
1985 –   "We've Got a Taste for You 1986"
1986 –   "Catch the Wave"
1988 –   "You Can't Beat the Feeling"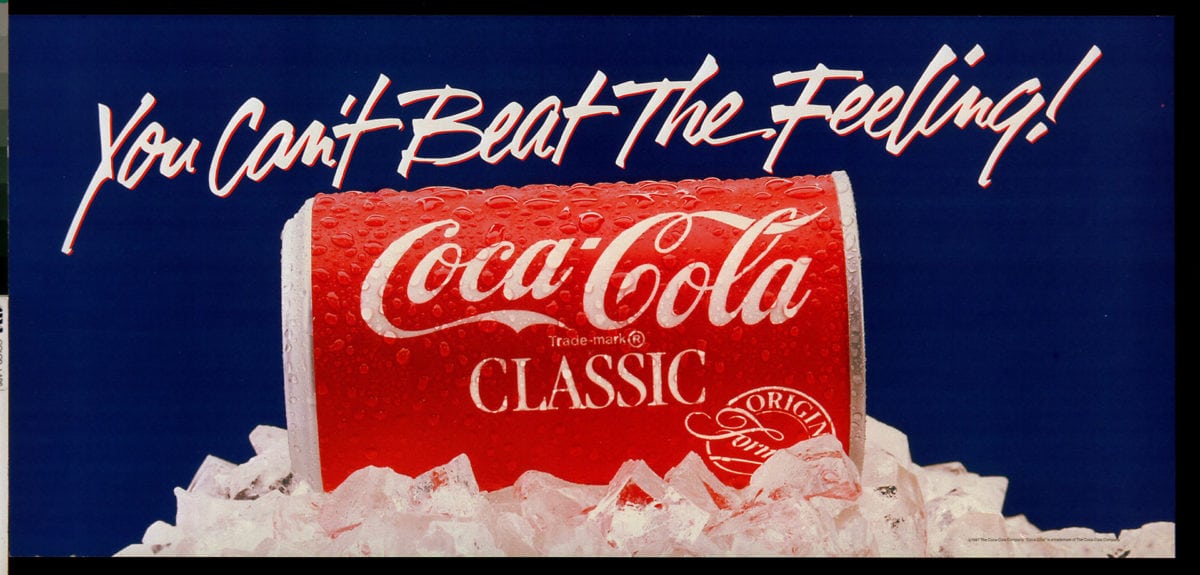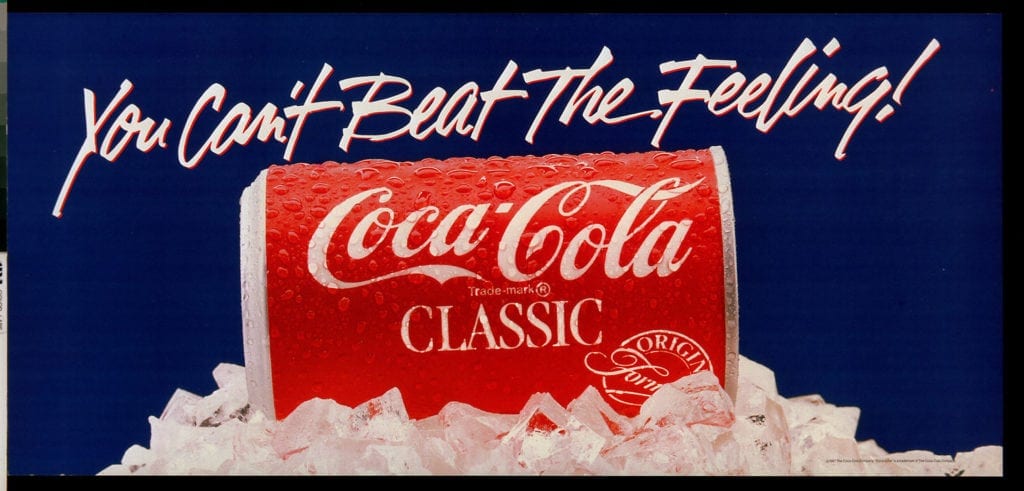 1989 –   "Official Soft Drink of Summer"
1990 –   "You Can't Beat the Real Thing"
1993 –   "Always Coca-Cola"
2001 –   "Life Tastes Good"
2003 –   "Coca-Cola … Real"
2005 –   "Make It Real"
2006 –   "The Coke Side of Life"
2009 –   "Open Happiness"
2016 –   "Taste the Feeling"
Coke Slogans: Wrapping it Up
So there you have it! We hope you've enjoyed reading our list of coke slogans.
Now, it's your turn to tell us about your favorite coke slogans.
We'd love to hear from you!
Image Souce: Coca-colacompany.com