We all probably know of the Krispy Kreme slogan, "Original Glazed Doughnuts" that comes printed on all their boxes. They've kept their brand identity really close to their original glazed doughnuts that made them popular.
It is a good strategy to stick with what made them popular, and it's still highly in-demand. Nothing beats a fresh and warm Original Glazed Doughnut – it's by far the best doughnut experience one can have.
That's what sets Krispy Kreme apart from the rest of the doughnut companies out there.
The Story Behind the Krispy Kreme Slogan: Original Glazed Doughnuts
It is when Vernon Rudolph started selling hot original glazed doughnuts to passersby on the sidewalk besides his bakery. Before that he only used to supply Krispy Kreme to local grocery stores.
No wonder Krispy Kreme Doughnuts slogan is still so close to it's roots.
Check out the story behind Pepsi's slogan and the brand's history.
The Hot Doughnut Experience
Which brings us to another Krispy Kreme slogan, and they've used it quite a lot in the early days: "Hot Doughnut Experience"
Not surprising for a company that is proud of it's origin.
Krispy Kreme's Corporate Slogan: Doughnuts & Coffee Since 1937
There is another famous corporate Krispy Kreme slogan, that they often use in different markets and advertising campaigns around the world: "Doughnuts & Coffee Since 1937"

They have always stayed true to their brand identity, which makes them focus on doing what they do best and keep delighting customers.
Krispy Kreme Slogans Over the Years for Advertising Campaigns
Over the years and in different markets, Krispy Kreme have used other slogans as well. But that has been only to support their advertising campaigns. Krispy Kreme's brand and corporate slogan seems to remain intact.
Happy All Around

Make Today Special

Take some home today

Melt-in-your-mouth delicious

You Doughnut want to miss it

Bring a box. Bring a joy

Hot. Now.

Lose an hour. Gain a doughnut.
Bonus#1: Krispy Kreme (UK) Slogan – "Think inside the box"
In 2012, Krispy Kreme UK launched a print, outdoor and social media campaign with Addiction (the agency) with the tagline "Think inside the box."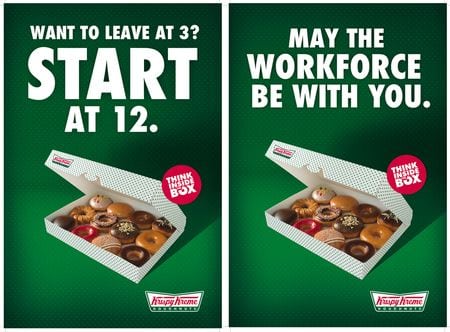 The campaign encouraged people to buy a dozen doughnuts for their work place. A move to drive incremental sales lift. You can read more about this campaign here.
Bonus#2: Vintage Krispy Kreme Slogan & Advertisement
We got our hands on a vintage ad and a slogan by Krispy Kreme. The advertising slogan they use was: "Wholesome goodness your whole family can enjoy"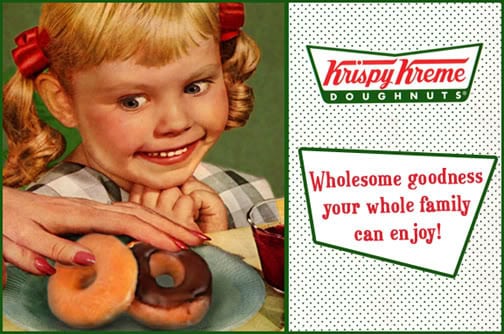 Krispy Kreme's Humble Beginnings are Reflected in their Slogans & Brand Positioning
There are very few brands that stay true to their humble beginnings, and Krispy Kreme is definitely one of them.
The Krispy Kreme slogans today are a sign of their quality and commitment to delivering the best experience to their customers.