When talking about leading firms in the technology industry, it would be cruel to miss out on Apple Inc. Since its existence in April 1976, the founders and workers at Apple Inc. have only known one way of progress i.e. the way forward. Probably this is the reason why Apple Inc. is now considered to be one of the top-rated Multinational Technology Companies. Due to its effective and elaborate business model, the company is now one of the top four big companies around the world, FAGA – Facebook, Amazon, Google, Apple.
Business Model of Apple
Let's find out more about the Trillion-Dollar company and dig deep to find out the money-making secrets.
Apple's Business Model priorities – simplified
Do you have any idea about the current revenues that Apple Inc. is generating right now?
The multi-million dollar company currently has an income of US$70 billion and a revenue of US$265 billion. So, regardless of any other statistical measures, it is safe to say that Apple's business is extremely profit-oriented and highly sustainable.
Since the start, the company's motive has been towards providing premium quality products to its customers. With time, the company also started selling online services, but they never interfered with the company's primary focus. According to Reuters, Apple Inc. currently sells three different types of products:
Hardware Products,
Software Products,
Online Services.
Hardware Products include:
iPhone,
iPad,
iPod,
Macintosh PC,
Apple Watch (smartwatch),
Apple TV,
AirPods,
HomePod (smart speaker).
Software Products include:
iOS,
macOS,
iPadOS,
watchOS,
tvOS,
Safari Web Browser, etc.
Online Services include:
Products over everything
Considering the aforementioned lists, it is evident that Apple's primary focus has always been towards the production of premium quality products both hardware and software.
The management supervising the production arena is highly confident with this approach to continue creating best-selling products, irrespective of thinking just about the company's profits.
According to Apple, it wants to build an entire ecosystem that will provide its customers with a sense of belonging and go on to give the customers a separate identity as opposed to its competitors.
Maintenance of the Company's Global Identity
In this age of digital maturity, it is a necessity to build a unique identity if you are to compete in the survival of the fittest. When we see Apple, they have got this covered, quite literally.
Apple's most effective strategy to expand the radius of its identity is the maintenance of the quality of its products that helps it in maintaining the premium tag.
Furthermore, to develop a sense of locality the company establishes retail stores across the world. This helps the trillion-dollar leading telecommunication company to market its products by mingling with locals.
Owning their product; in all aspects
The important thing to note here is that Apple has complete control over most of its products. The company builds the hardware for all its devices (iPhone, iPad, iPod, Apple TV, Macintosh PC, Apple Watch, AirPods, and HomePod). This allows the company to administer the build quality ensuring that it aligns with its claim of providing a quality experience through its hardware and software.
Cash Flow
There is no doubt that Apple Inc. is making some serious money but how much ..?
According to a detailed study regarding Apple Inc.'s cash flow, here are some noticeable numbers:
Revenue: US$265.595 billion
Operating income: US$70.898 billion
Net income: US$59.531 billion
Total assets: US$365.725 billion
Total equity: US$107.147 billion
Here is a surprising fact in terms of revenue generation. Microsoft has an extremely lucrative business model, but still, Apple is able to bring around 70% more cash flow for free as compared to Microsoft.
What attracts the Most Profit?
Apple makes its money through the following sources:
Products
Apple products, as mentioned earlier include:
iPhone,
iPad,
iPod,
Mac,
Apple Watch,
Apple Tv,
HomePod, and
AirPods.
Subscription Fees
Since Apple claims to build an ecosystem, therefore it also provides services other than their hardware and OS products. These services follow a renowned subscription business model which lets the users use the services against a fixed and affordable price. This model serves as the secondary source of income for the trillion-dollar company.
Some of the services provided by Apple Inc. are:
iLife,
iWork,
AppleCare,
Apple Pay,
Apple Music,
iTunes Store,
App Store,
Mac App Store,
iBooks Store, and
Apple TV App Store.
Warranty
It may come off as a surprise to most of us but there's a wide range of customers who pay extra money upfront to extend their warranties.
A statistical analysis depicts the dominance of the products as following: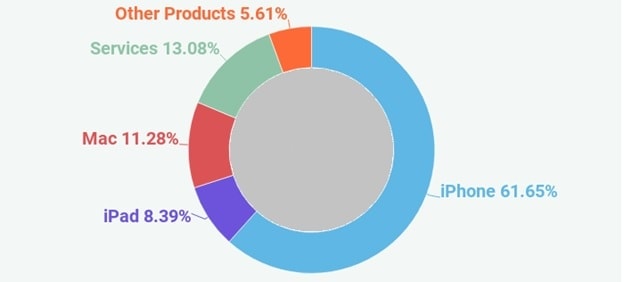 Many of the analysts claim that amongst Apple's products, iPhone is the sole-bearer of its massive profit generation. But, the above analysis suggests otherwise.
Yes, iPhones bring in the majority of sales and of course, profit. But other products and services are noteworthy and deserve appreciation too.
The point to focus here is how easily has Apple built an ecosystem that is so profitable. With a globally successful smartphone, a flagship tablet series, the company is a tough competitor for its counterparts.
Furthermore, it's not just that. With the addition of comfortable and affordable wearable devices such as AirPods and Apple Watch, the company has instilled an idea in people's minds that comfort and advancements in technology go hand-in-hand if handled efficiently.
Conclusion
Considering the aforementioned statistics, it is safe to say that Apple's management has a laser-focus towards the ways of exponentiating the company's growth. Not only do they have the right ingredients, but they also happen to have just the right formula to utilize these ingredients to perfection.
According to Cybart, Apple's current product line is as follows:
The Most profitable smartphone,
Most profitable tablet,
Most profitable laptop,
The Most profitable desktop,
The Most profitable smartwatch,
Most profitable wireless headphones, and
The Most profitable streaming TV box.
The company's invariable focus on technology and building an ecosystem is an example for emerging companies on "How to build a successful and sustainable business model?"
How effective do you find Apple's business model in 2020? Let us know about it in the comments section.