There are thousands of fans who look up for Stephen Curry quotes to inspire and motivate themselves. Stephen Curry, a pro basketball player, has had an impact on thousands, if not millions, of his fans with his strength, passion and a go-getter attitude.
High-school grads to long time NBA fans look up to him to get the most out of the game-night. If you'd like to know more about Stephen Curry and why his quotes are all the rage, well you're in luck today. It's coming below.
Who is Stephen Curry?
A professional NBA player, considered as one of the best shooters to have ever existed in the NBA history. Stephen Curry is currently playing as the point guard for The Golden State Warriors.
In the year 2015, Stephen Curry won the "Most Valuable Player" award. HE has also won a couple of other awards which prove how successful he has become with his sport.
Stephen Curry's Net Worth
According to Forbes Magazine, Stephen Curry's net worth is $47.3 million as of June, year 2017. During the year 2012, he signed an extension contract of four years with the Golden Gate Warriors.
Despite being awarded with the MVP status twice, Stephen Curry is the 86th highest paid player of the NBA's in 2016-2017, Curry's yearly salary is $12.1 million.
Moreover, in June 2017, Curry compensated with his previous rate of bargain by signing the highest ever paid contract of $201 million salary over five years. It will make him go through the season of 2020-2021.
Stephen Curry has also signed deals of endorsement with JPMorgan Chase, Under Armour, Vivo, Brita and Press Play.
Stephen Curry's Family
Stephen Curry's parents were also professional sportsmen. He is the eldest of all the sons of Dell Curry, a former NBA player. He learned the fundamentals of basketball by being under his father's supervision while practising.
However, Sonya, former Division Volleyball star, instilled the discipline to train her son during the time Dell Senior was on road trips with his team.
Stephen Curry has two siblings. Seth Curry, who went into a professional basketball career with the Dallas Mavericks after starring at Duke. His sister Sydel pursued her career in volleyball at Elon University.
Stephen Curry's Wife
The player of the MVP married his college love, Ayesha Alexander on July 30th, 2011. Ayesha was born in Toronto, Canada on March 23rd, 1989. Best known for "Ballers, 2015", Ayesha Curry is an actress and the host of "Ayesha's Home Kitchen" on the Food Network.
Stephen and Ayesha were blessed with their first daughter on July 19, 2017 named Riley. Whereas their second daughter was born on July 10 2015, named Ryan.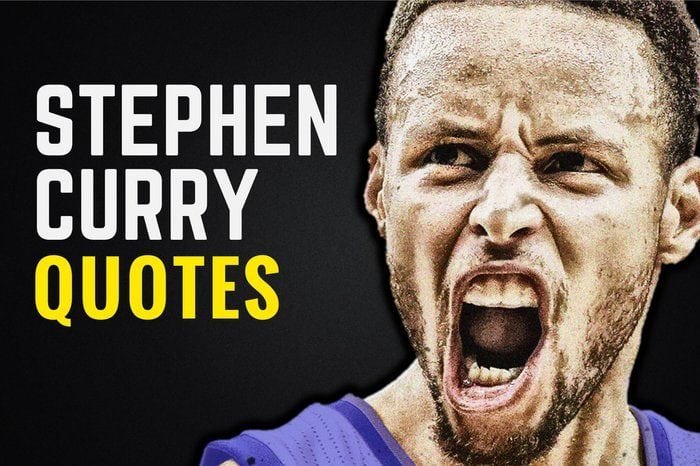 Inspiring Stephen Curry Quotes
Dedicating his life towards the game, Stephen Curry's Quotes have inspired many. Being talented to the core, he is introspective, thoughtful, and inspiring. His advises are tremendously motivational, which can be very evident through Stephen Curry's Quotes.
What you would be reading further are some of Stephen Curry's Quotes that we have come across so far.
#1 Always Ready for the Moment
"I've never been afraid of big moments. I get butterflies… I get nervous and anxious, but I think those are all good signs that I'm ready for the moment." – Stephen Curry
#2 Shoot Fast
"I want to practice to the point where it's almost uncomfortable how fast you shoot, so that in the game things kind of slow down." – Stephen Curry
#3 Live the Moment
"Make sure you live in the moment and work your butt off every single day, and I hope I inspire people all around the world to just be themselves. Be humble, and be grateful for all the blessings in your life." – Stephen Curry
#4 Reaching Potentials
"Being a superstar means you've reached your potential, and I don't think I've reached my potential as a basketball player and as a leader yet." – Stephen Curry
#5 Best the Best Version of Yourself
"Be the best version of yourself in anything that you do. You don't have to live anybody else's story." – Stephen Curry
#6 Work for It
"We have to have the mentality that we have to work for everything we're going to get." – Stephen Curry
#7 Be the Best
"Play like you're in first. Train like you're in second." – Stephen Curry
#8 Realize your Worth
"If you take time to realize what your dream is and what you really want in life — no matter what it is, whether it's sports or in other fields — you have to realize that there is always work to do, and you want to be the hardest working person in whatever you do, and you put yourself in a position to be successful. And you have to have a passion about what you do." – Stephen Curry
#9 Don't be afraid to fall
"If you don't fall, how are you going to know what getting up is like?" – Stephen Curry
#10 Heart for God
"I do a little sign on the court every time I make a shot or a good pass and i pound my chest and point to the sky – it symbolizes that I have a heart for God. It's something that my mom and I came up with in college and I do it every time i step on the floor as a reminder of who I'm playing for." – Stephen Curry
#11 Risk it
"I'm not the guy who's afraid of failure. I like to take risks, take the big shot and all that." – Stephen Curry
#12 Choice
"Success is not an accident, success is actually a choice." – Stephen Curry
#13 Conquer the world
"Success comes after you conquer your biggest obstacles and hurdles." – Stephen Curry
#14 There is always more
"There's more to me than just this jersey I wear." – Stephen Curry
#15 All-Star
"I'd rather be a non-All-Star playing in the Western Conference finals than an All-Star who's sitting at home in May." – Stephen Curry
#16 I can
"I can do all things." – Stephen Curry
#17 Confidence
"Every time I rise up, I have confidence that I'm going to make it." – Stephen Curry
#19 Shoot Well
"I can get better. I haven't reached my ceiling yet on how well I can shoot the basketball." – Stephen Curry
#20 Faith
"I can't say enough, how important my faith is to how I play the game and who I am." – Stephen Curry
#21 Great Ride
"I really cherish everything that basketball brings; and I think, for me, it's been a great ride and I'm not done yet…" – Stephen Curry
#22 Passionate and Relentless
"Success is born out of faith, an undying passion, and a relentless drive." – Stephen Curry
#23 Mine
"Basketball was mine, and that's what's carried me to this point." – Stephen Curry
#24 Witness for Christ
"Each game is an opportunity to be on a great stage and be a witness for Christ. When I step on the floor, people should know who I represent, who I believe in." – Stephen Curry
#25 Experience
"The more years I go, the more experience I have, the more that nutrition and eating the right foods is important for recovery and things like that." – Stephen Curry
#26 All about winning
"It's all about winning. Stats really don't matter, I mean, guys have great series and all that, and people take notice and take their place in history with those stats and all that stuff. But at the end of the day, it's all about winning and what you can do to help your team get to that point." – Stephen Curry