A lot of people dream of traveling the world for a living. Well, guess what? Learning how to start a travel blog can actually turn your aspirations into reality. It will be challenging but we've got to start somewhere now, don't we?
In this blog post, we'll provide you a detailed rundown on how to start a travel blog.
Should I Make a Travel Blog?
We get it. The exotic locations and luxury accommodations can swoon anybody. But behind all that glamour lies tons of prep-work and dedication. From photography skills to videography, there's plenty of behind-the-scenes madness that readers don't get to see. This is exactly why you should start a travel blog only if you're:
Passionate about traveling – Writing about something you don't care about can get dull and boring. Travel blogging is quite a commitment and will take up a lot of your time but if mountain tops and cozy hotel rooms take your breath away, you've found your perfect match.
Willing to bear the expenses – Travel blogging can be expensive and it can take a while until your blog finally gets the recognition it deserves. So until that happens, be prepared to foot the bill yourself.
Prepared to do the grunt work – Having a travel blog is quite similar to having your own magazine. You'll be wearing multiple hats being the writer, editor, photographer all at the same time. As your blog starts to get bigger and bigger, you may hire a team but at the beginning, it's pretty much just you so be prepared to put in everything you've got.
How to Create a Travel Blog
Before we dive into the details about your new found profession (or passion?), you'll need to set up a blog first.
In this section, we'll provide you a quick guide on how to start a travel blog. Here's what you'll need:
A Blog
While there are a plethora of blogging platforms out there such as Tumblr and Blogger, we highly suggest you choose WordPress because of its intuitive dashboard and stunning themes.
Hosting
Think of hosting as renting space for your blog on the internet. Don't worry, hosting doesn't cost a fortune, especially if you opt for Bluehost. Other paid options include DreamHost and MaxBounty.
Domain Name
Put your thinking hat on because you're going to need a domain name for your travel blog. Think of something catchy and memorable that people will love. Then head over to Godaddy to make it official.
Theme
Your WordPress account will come with a number of standard themes but if you really want to stand out, consider making an investment. Professional themes aren't too expensive and typically cost between $25 to $80. Using a professional grade will improve the functionality of your website. ThemeForest.
For additional help, check out our detailed post on how to create a blog. (You won't be disappointed!)
Plugins to Use for Your Travel Blog
Plugins are third-party apps that you can add to WordPress. You can find a number of free plugins that will improve the functionality of your successful travel blog.
To help you get started, we've compiled a list of useful plugins that you should use:
YoastSEO – As the name suggests, this Plugin is great for optimizing your blog content for Google Search.
Social Share Buttons – You want people to share your blog now, don't you? Don't forget to include social media sharing buttons to your posts.
WP-Optimize – This plugin will keep your WordPress database clutter-free.
Akismet – Use this plugin to stay clear from spammers.
How to Choose a Travel Blog Niche
You can't how to start a travel blog without choosing a niche.
Now, this may confuse you but they're plenty of sub-niches you'll find under travel blogging. We advise you pick a niche that resonates well with you. Taking the broad path won't help much and may not fare well in terms of SEO so try to bring out as much personality with your blog as you can.
Take your time before making the decision. Here are some ideas that might initiate a train of thought:
Traveling on a budget
Demographic-focused. You can target the area/country you live in
Luxury traveling
Solo traveling
Traveling with friends
Backpacking
Traveling as a single parent
Adventure traveling
Family traveling
Traveling with your kids (perfect for mums)
Visiting underrated spots
Traveling for work
Country-focused traveling
Traveling with disabilities
Essentials You'll Need for Travel Blogging
Before you jump into the bandwagon on how to make a travel blog, stock up on essentials you might need. Some important items you should add to your arsenal include:
Laptop: Well, this is obvious. You'll need a laptop to start blogging. Start by downloading videography and photo editing software. If that's something you're not familiar with, you can take up online courses on Udemy or simply browse a few tutorials on YouTube to get started.
Camera: You'll need a high-quality camera to shoot and take pictures of all your neat adventures. If you're a newbie, your phone camera can suffice as long as the results are topnotch.
GoPro: This action camera will make all the difference in the world if you want to capture stunning shots from above and beyond. If your blog is still in its initial stages, you may invest in a GoPro later on.
Portable Backup Charger: Don't underestimate the importance of a backup charger. A power bank is another handy investment that you ought to make.
The above-mentioned are a few essentials you might need if you're starting a travel blog. As your blog starts to generate revenue and gain popularity, you may purchase additional accessories to improve your experience such as a camera mount, drones, a different camera lens etc.
Blogging Baby Steps: How to Write a Travel Blog
Since we've already talked about how you can set up your blog, it's time you start writing to your heart's content. Here's how you can get started:
Create an About Us Page
Before you come up with a kickass introductory blog post, update the 'About Us' section of your blog. Introduce yourself and talk about your passion for traveling. Feel free to share quirky facts about yourself and let your personality shine.
Additionally, don't forget to add contact details or include a contact form on your blog. This will allow readers, fellow bloggers, and potential sponsors to reach out to you for collaborations and paid opportunities.
Crowd Source Ideas and Gather Information
If you're serious about perusing a full-time career in travel blogging, connect with fellow bloggers and crowdsource ideas from platforms such as Twitter. Cross promoting content and sharing links will not bring in new readers but can substantially boost traffic.
Writing Your First Blog Post
Your first blog post can be an introductory post about yourself. You can talk about your favorite travel spots and what your goals are in terms of the blog. Use this as an opportunity to connect with your readers and ask them to recommend their favorite travel locations too.
Here are some ways to add more value to your blog posts:
Include High-Quality Images
It's all about the aesthetics. Add stunning pinnable images to give your posts an extra oomph. If you're a Photoshop expert, move over to Canva instead. Use this incredibly easy to use graphic design tool to design blog images or craft social media images. Thanks to its easy drag and drop feature, you'll be able to create eye-catching designs within a matter of minutes.
Create a Travel Vlog
Now we understand how this could raise a few eyebrows but hear us out! Reading a bunch of text can be boring or time consuming for some people which is why adding vlogs and videos can benefit your blog.
And since travel blogging is a niche that highly depends on visuals and aesthetics, people will appreciate the extra effort you put in. Plus, if your vlogs start to really hit it off, you can monetize your YouTube channel and find ways to distribute traffic.
Be Yourself!
People on the internet don't emphasize on this fact, enough so we're going to be honest with you: be yourself!
Your blog post shouldn't look like a page off Wikipedia so try to be as authentic as possible. Readers love a little bit of quirkiness and sass here and there. You'll gain a lot of followers if you stay true to yourself and go with the flow.
How to Start a Travel Blog and Make Money
Once your blog starts to gain a decent fan following and gains steady traffic, it's time you monetize your hard work. Here are a couple of ways you can make money travel blogging:
Affiliate Marketing
Affiliate marketing is the perfect fuss-free way to kick off your passive-income gig. You can become an affiliate for practically anything these days but here are some popular options you can try out:
Paid Campaigns
Tourist companies will be eager to have you onboard paid campaigns if you have a large number of readers. However, it will definitely take you some time to get a free trip if your blog is still in its initial stages. In the meanwhile, focus on improving your content and gaining more traffic.
You'll have more success with paid campaigns once your blog is at a certain level until then, keep hustling!
Google AdSense
Google AdSense is by far one of the most popular ways to make money blogging. Once you sign up for Google's AdSense Program, you can choose from a number of different banner ads for your website. Since is a cost-per-click advertising method, you'll earn a commission every time someone clicks on the ad posted.
Aside from Google AdSense, you can also sell ad space or use other ad networks instead.
Consulting
Chances are if you're really good at what you do, people will seek your advice.
Lucky for you, there are tons of tourist companies that would want to boost their social media game with your help. Consulting is a great way to empower other businesses and promote your own travel blog at the same time.
For more suggestions, check out our detailed guide on how to make money blogging.
Social Media Platforms to Use for Travel Bloggers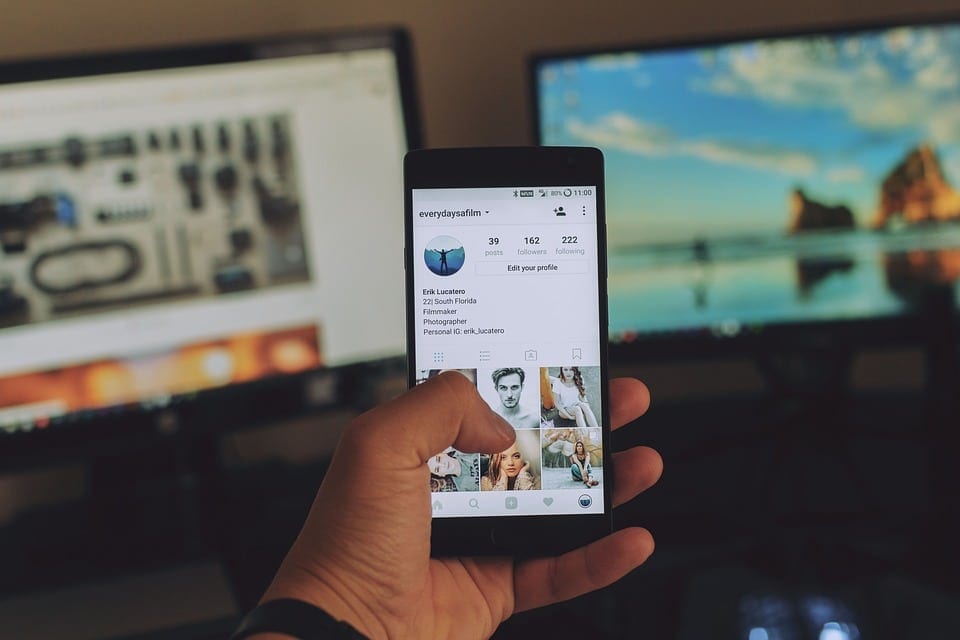 Travel blogging is competitive which is why you ought to use as many resources as you can and social media is a great way to get ahead!
Keep in mind that each platform caters to a specific audience and has its own unique purpose. You don't have to hop aboard every social media website but carefully choose the ones that resonate best with your blog.
Here are some top contenders that you might find useful for travel blogging:
YouTube – You can't create travel vlogs without using YouTube. Use the platform to attract an even wider target audience and promote your blog. If it works out, you can look for ways to monetize your YouTube channel.
Pinterest – This visual search engine is a goldmine if you want to direct more people to your website. Create stunning visuals to increase your chances of going viral. If you're willing to put in the effort, Pinterest can easily become your favorite social media blogging tool.
Instagram – Instagram is one of the most popular social media platforms right now. Use it to share glamorous shots of your staycations and interact with followers.
Facebook – The coolest aspect of Facebook is that it's great for community building. Leverage it to build your brand and have open conversations with your readers.
How to Start a Travel Blog: Wrapping it up
We hope this detailed guide will inspire you to kick-start your very own travel blog.
Do you have any additional tips and tricks in mind? Tell us about it in the comment section below.