Learning how to start a tshirt business at home is among the most lucrative ways to make money at home. While the idea of starting a side gig may seem daunting, we thoroughly encourage you to set up multiple income streams to improve your quality of life.
Yes, competition might be a little tough as a number of entrepreneurs have set up their online t-shirt business from home, one shouldn't lose hope.
In this guide, we will teach you all the basics you should know about starting a tshirt business at home. But first, let's address some important concerns.
How Much Does it Cost to Start a Tshirt Business?
First things first, you'll need to sort out the costs. If you don't plan on buying any printing equipment, most of your expenses will be limited to using creative suites and designing. If you have a very low budget, you can start by uploading a couple of designs on a POD (print on demand) website. That way, you will be able to earn if the t-shirt sells but won't go into a loss if it doesn't.
Other costs that you ought to keep in mind include costs for shirts which sell for about $24.00 per dozen (we're talking about 100% cotton here). Although the prices may vary depending on how many shirts you purchase at a time.
If business really starts to kick off, you can consider purchasing a decent printer. This will cost about $9,000. So you see, the cost of starting a business vary depending on the materials and resources you have available.
How to Start a Tshirt Business at Home
Here are a few actionable steps to on how to start a tshirt business with no money:
Choose a Niche
If your business does not center on a print-in-demand formula, narrow it down to a suitable niche. Some ideas include making t-shirts for people who love fitness with cool slogans and graphics. In this case, you would really want to channel in all your creativity and maybe get a graphic designer on board. Another great idea is to make baby t-shirts for newborns and toddlers with cute messages.
The key takeaway here is to look for different ways to make a room for yourself in the market and standing apart from competitors.
Design
As discussed above, try to come up with a design that will really speak to your customers. Also, while it's perfectly alright to look for some inspiration, you don't want to copy someone else's work or use generic designs from the internet.
Invest in Quality Materials
You want customers to keep coming back no, do you? Invest in quality materials, preferably 100%cottons as those are the kind of shirts that people generally like to buy.
Printing
Once you have sorted out the creative framework, you'll need to decide on the right printing method for you. Since this is the most crucial part of setting up a printing business, you'll have to do plenty of research. This is why we dedicated the next section of this guide for this purpose.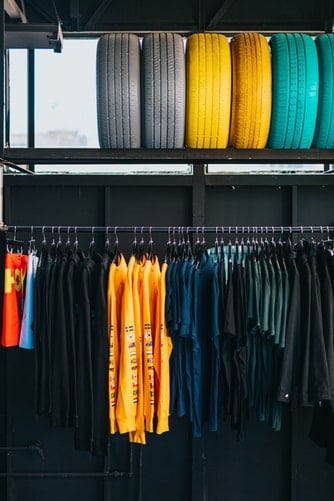 How to Start a Tshirt Printing Business at Home
Moving over to the specifics, there are generally three ways to start your own printing business at home. But that isn't possible if you don't have the right equipment or don't use the correct printing method. Here are three printing methods you should know about it:
Screen Printing
This is a relatively old technique that people have been using for decades now. While screen printing is a reliable printing method when you're working with bulk quantity t-shirts, it may not be the best option for a beginner. Also, while screen printing offers durable results, printing can become a little problematic when you are dealing with complex designs.
Hence, this is a viable option if you are dealing with bulk quantities and are selling simple designs.
Direct-To-Garment (DTG)
This method more or less functions the same way as an ink-jet printer. It works by directly splattering ink on the t-shirt, providing optimal accuracy and precision. DTG offers full color results that look stunning.
This method is one of the most convenient of the lot and offers exceptional quality that is in par with screen printing. What's best is that it doesn't come with any additional hassle and operates pretty much like an ink jet printer. This makes DTG a great option for folks taking small orders, perfect if you're still learning how to start a tshirt business at home.
The only practical downside of DTG printing is that it isn't a feasible option for people who take bulk orders.
Heat Transfer Machine
As with screen printing, the concept of heat transfer has been around for a fairly long time. You may be familiar with this method if you have seen heat transfer paper in your office.
If you're planning on using this method to print tshirts, we recommend you stay clear from using an iron at home (you'll find multiple videos on YouTube). High quality equipment for heat transfer printing include platisol transfers. These are used by professionals who also use high quality paper. In the long run, investing in a commercial heat press machine will be profitable for you however, you will need a designated space to store your equipment.
How to Start a Tshirt Business At Home: Wrapping it Up
So you see, learning how to start a tshirt business at home isn't as difficult as it looks.
Is there something you'd like to add? Tell us about it in the comments section below.